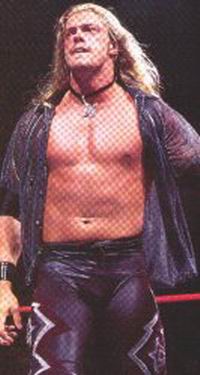 Pro Wrestler

The Resume
(October 30, 1973- )
Birth name is Adam Copeland
Born in Orangeville, Ontario, Canada
Former WWF Intercontinental Champion, WWF Tag Team Champion, WCW U.S. Champion and 2001 King of the Ring
Why he might be annoying
- His first reign as Intercontinental Champion lasted one day.
- His mic work is similar to that of a Valley Girl.
- He once wrestled under the name of Sexton Hardcastle and he and Christian Cage formed a tag team known as Sex & Violence.
- When he originally came to the WWF, he was a member of The Brood, a Goth heel stable where he never spoke.
- When he and Christian were a heel tag team, they would get cheap heat by bashing the sports teams of the city they were wrestling in.
- He dresses like a rock star.
- He was the first contestant voted off on the WWF edition of The Weakest Link.
Why he might not be annoying
- He won the Tag Team Championship nine times, trailing only Billy Gunn on the all-time list.
- He's a tag team specialist, winning the tag titles with three different partners.
- He and Christian went from being two singles wrestlers to being paired together and becoming one of the best tag teams in recent years, winning the tag titles seven times.
- Along with Christian, The Dudley Boys, and the Hardy Boys, hes credited for revitalizing the WWF tag team division.
- The five-second pose that he and Christian would do was popular in its creativity and got good heat.
- When Edge & Christian broke up, Edge went on to have the bigger singles career of the two.
- He always puts on a good performance in TLC (Tables, Ladders & Chairs) matches.
- In the PWI 2003 Insiders' Poll, he was named the Sexiest Male Wrestler.


Credit: Reo Rogerz