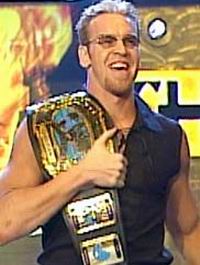 The Resume
(November 30, 1973- )
Birth name is William Jason Reso
Born in Toronto, Ontario, Canada
Former WWE European, Intercontinental, Light-Heavyweight and Tag Team champion (with Edge, Chris Jericho and Lance Storm)
Why he might be annoying
- After winning the Intercontinental title for the 2nd time, the writers forced him to cut his long hair and get new clothes (see picture).
- He was part of a stable called the Un-Americans, that gave the fans a hard time during September 11th.
- His first wrestling name was Christian Cage, created by combining Christian Slater and Nicolas Cage.
- He was used as a tool to turn The Rock back into a face (a good guy).
- He didn't have too many fans until just recently with his new act.
Why he might not be annoying
- He has been under used and under rated at a wrestler for a long while.
- He was the first person to win the Intercontinental title after it was brought back in 2003.
- Along with the Hardy Boyz and the Dudley Boyz, Edge & Christian gave the WWE Tag Team division a much-needed boost in 2000.
- Edge & Christian still remains as one of the most famous tag teams in WWE history, even though they broke up in 2001.
- He has had some memorable feuds with Booker T and Goldust.


Credit: Hmmm