Christian's Calender
December
5-Billings MO
6-Loveland CO
7-Fresno CA
8-Anaheim CA
12-New York City NY
13-West Palm Beach FL
14-Orlando FL
15-Tampa FL
27-El Paso TX
28-Lubbock TX
29-San Antonio TX
Edge's Calender
12- autograph session
Tampa FL
December 2
Hi this is Glenda. Sorry for Lack of update on the pics but i'm really busy with school so bare with me please, all I have is two weeks left of school then I'm on vacation so i'll be doing major update then before school starts up again. Thank you all and Thank you for visiting and coming back to our site.
Our Other Sites


My Husband's Site!

ADAM'S COLUMN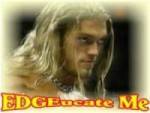 Quick Edge stats:
- Adam Joesph Copeland.
- Scorpio.
- 30.
-6'4".
-240 Lbs.
-Married .
-Former tag team, Intercontinental and European Champion.
Quick Christian stats:
-William Jason Reso.
-Sagittarius.
- 29.
-6'1".
-225 Lbs.
-Married .
-Former European ,Hardcore, Tag Team, Light Heavyweight and Intercontinental Champion.
Vote For Us